With Covid still keeping many people at home, buying gifts online will be more popular than ever this holiday season. Here is the best holiday gift guide for gardeners this year.
This list is different than my past lists that only contained items from Amazon. I am including items that you can buy on Amazon, as well as other items that I love.
The first two products are digital items that I made earlier this year. One thing that is great about digitaI products is that you don't have to pay for shipping. Something else that is great about my products is that as soon as you purchase them, you can download them!
I also have included items from specific companies that I love! Here is my holiday gift guide for gardeners.
Garden Calendar
Are you having trouble keeping up with what you planted or when you last watered? Then this garden calendar is for you.
This 12 month planner can be saved on your device or printed out. I also included "stickers" that you can print out, laminate, or add velcro to use more than once.
Four bonus weekly planners in different designs are also included at no extra cost! Buy one for yourself and friends!
Lavender Recipe Booklet
This recipe booklet contains four different recipes using lavender oil or dried lavender. Use your own home-grown lavender in these recipes, or purchase dried lavender and oil separately. learn how to make your own eye gel, body spray, sachets, and hand sanitizer!
Check out my lavender recipe booklet, as well as other posts about lavender, such as:
Sola Wood Flowers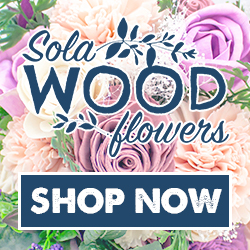 If you are looking for high-quality faux flowers to make beautiful bouquets, then Sola Wood Flowers is the company for you. I bought one of their bouquet kits for sale a few months ago, and was very pleased with the results.
Sola wood is from the tapioca plant root. After the root is cut and pealed, the wood can be cut into thin layers to make into flowers. Since these flowers are made of wood, they can last much longer than cut or dried flowers.
You can buy kits to give as gifts, purchase undyed varieties of flowers, or dyed assortments to create your own unique bouquets. Plus, they always have sales on their wood flowers and other supplies!
Botanical Interests
Botanical Interests has been selling high-quality seeds for 25 years. They have a great variety of seeds to choose from.
I love how they provide artwork of the plant they are selling on their seed packets, instead of just a photograph. It's like getting two items for a great price!
Botanical Interests provides all kinds of seeds to choose from, as well as gardening gifts, items for new gardeners, seed collections, and more!
PlantingTree
PlantingTree is an online plant company that ships live plants all over the USA. They sell roses, hydrangeas, all kinds of trees, and more! Your plant will come as a young plant securely fastened in a box, ready to be planted when it arrives.
PlantingTree provides a detailed guide on how to plant your new plant so that it thrives in your garden. Check out their holiday gift trees and other items!
You can read more about PlantingTree plants below.
Amazon Products
I have to mention Amazon products if I'm going to write a holiday gift guide for gardeners. Amazon has just about anything and everything you can think of. Below are just a few items that would make great gifts for garden lovers.
Indoor Hydroponic Garden
If you don't have much space to grow plants outside or prefer to grow your herbs indoors, then this indoor hydroponic garden is for you. It includes 6 different gourmet herbs that you can grow.
The control panel lets you know when to add plant food and water, and will shut off or on by itself. LED grow lights are also included.
Garden Tool Set
This garden tool set is made by ZUZUAN and made of aluminum for durability and to last a long time to use in the garden. The rubber grips keep the tools from slipping out of your hands. The kit comes with a trowel, transplant trowel, and cultivator hand rake.
Flower Growing Kit
This kit is designed for younger gardeners, but gardeners of any age will enjoy this flower growing kit that comes with a container that can be painted. The kit comes with paint and paintbrushes to decorate the container and plant markers, flower seeds, a growing guide, soil, and more!
Thick Kneeling Pad
This thick kneeling pad by Gorilla Grip provides 1.5 inches of foam support for your knees while gardening on the ground. It is 11 by 17.5 inches, giving you plenty of to kneel comfortably while weeding, planting seeds, or pruning. When finished, just carry it comfortably with the handle built in.
Rose Pruning Gloves
Tired of getting poked when you prune your roses? These pruning gloves by Intra-FIT are just what you need. Beautiful roses are embroidered on these gloves that fit all the way up your forearm so that you can avoid getting stabbed while cutting back your roses.
Other Garden Gifts
Amazon has plenty of other great garden related products, so feel free to browse around to find another great garden gift for friends and family while checking out the items above.
Holiday Gift Guide for Gardeners
Do you have a better idea what you will give your gardening friends and family this holiday season? I hope this holiday gift guide helped. Let me know what you think in the comment section below.
Happy Holidays and Happy Gardening!